Tim Holtz: A Compendium of Curiosities, Vol. 2, page 40
Happy Friday, blog friends! I'm home after spending most of the past week in beautiful Portland, Oregon (alas, it was for work, not play, but it was still lovely….). How did it get to be the last week of October?? Are you ready for Halloween? I haven't even carved a jack-o-lantern yet, so my weekend is going to be all about decorating (and trying not to eat those mini candy bars that surely can't have any calories because, you know, they're SO teeny tiny).
We in the "home stretch" of the CC2C now: The final ten techniques! This week's is one of my favorites. I learned about it at Ranger U last year, and it's just so, so cool. If you've never made faux suede using Ranger Ink Refresher, you're about to have your mind blown! I don't know why Ink Refresher has the seemingly magical ability to completely alter the feel and look of regular ol' cardstock, but it does. It's rad, you guys, and I hope you'll give it a try!
____________________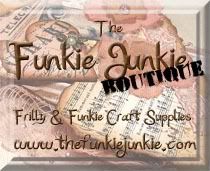 It's the third Friday of the month, and that means our challenge is sponsored by the awesome Funkie Junkie Boutique, who is graciously offering a $25 gift certificate to the winner of this week's challenge!  Woot– shopping!!! Thanks to Linda, the Funkie Junkie, for her generosity!
____________________
To participate in CC2C #26, create your own work of art using the Crumpled Kraft Suded technique on page 40 and link it to this blog using the InLinkz button at the bottom of this post. You're a rockstar as long as you honor these simple rules:
Follow the technique as it's written in A Compendium of Curiosities, Vol. 2 (adding your own special flair, of course!), and clearly state that the technique comes from Tim's book.  
Include a link to this post in your blog post (or photo description if you're linking from an online photo-sharing site).  
To be eligible to win the $25 shopping spree, you must include a link to The Funkie Junkie Boutique (http://www.TheFunkieJunkie.com).  
Out of respect to Tim, please don't post the technique instructions on your blog! Any entries that don't follow this rule will be unlinked.  
This challenge closes on Thursday, November 1 at 8 pm MTD. Please see the CC2C FAQ here for more information.
__________________
I hope you all have an awesome weekend and that the ghosts and goblins of late October bring you lots of creative mojo! Thanks for being part of the CC2C!
Hugs,
Linda
P.S. Don't forget to flip through the pages of the CC2C and take note of any supplies you'll be needing as we work our way through the remaining challenges, things like a Melting Pot and clear UTEE, a Ranger Ink Palette, Idea-ology Facets or Fragments… and anything else you may need to stock up on. Lots of fun creativity still to come… thanks to Mr. H!
__________________